Never really knowing it was always mesh and lace: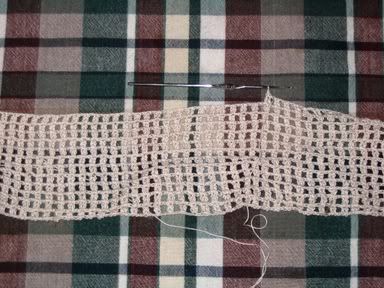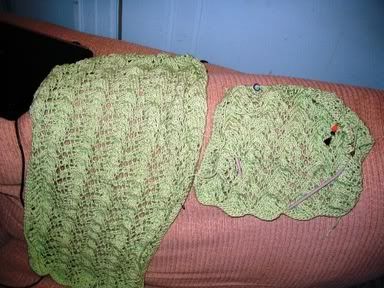 Yes it has been very long since my last post - I have been very busy at work and haven't finished any knit or crochet projects, though I have made some more jewelry. My Romantic Cardi is almost done - I need one more skein to finish the sleeve trim and it will be done.
The first picture is the thread crochet cardi which is coming along really well - its slow but steady work. I have been taking it with me when I visit my mother at the nursing home, she likes to watch me crochet and it helps pass the time when she doesn't feel like talking. The second picture is the first sleeve and my progress on the second sleeve of A Good Bias. I should have this finished before spring.
I am looking forward to my FLA trip in 2 weeks, I have been shopping a lot for this trip. Thursday night is a formal award dinner - I found this dress for sale on line:

- I am making this stole to wear with it: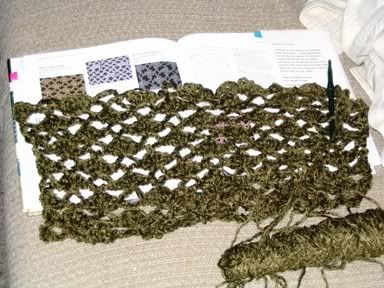 I am using some olive chenille I have in my stash - the dress has a very low back so I really need some cover.
We had a meeting at Chelsea Piers yesterday and today - this was the first time I have bee there - wow - I remember when there was nothing there that anyone would want to go to. It was a great place for a meeting and the team building activities where fun. The only thing I didn't do was the rock climbing - I really wanted to but there was not way I was going to squeeze into that harness and hang there with my co-workers staring at my butt! Once I lose enough weight I am definitely going to try that, it looked like a lot of fun.
Tomorrow we are taking the boys to Dave and Busters to celebrate their birthday since we didn't do anything last month. Sunday I am going to lunch with my girlfriends, that will be fun we haven't gotten together in a while. I also need to buy a new pair of jeans for my trip too - I'll try to do that this weekend too.
Well, David is telling me it is bedtime so I will log off now - Just want to say hi to Miss Sterious - I got both your postcards today - they are so cool! Annapurna is the Goddess I most identify with - food and cooking are very important to me.