Last night I went to the LIC Knit group at Communitea on Vernon Blvd - it was fun, I love meeting other knitters. I definitely plan on going again!
Progress Update:
I brought A Good Bias with me last night - I am hoping to finish this before I leave for FLA March 22 - I am pretty sure I will make it.
I should have the romantic cardi finished by this weekend - I had to upsize it a little and the rows are now taking what feels like forever to complete, but the end is in site.
I think I mentioned that I had bought some silk lace wt yarn from
HipKnits
here is the yarn: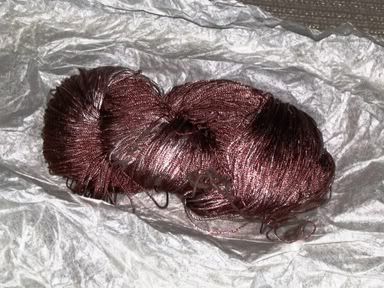 I have a slightly smaller skein ~1200-1300 meters. This is the project I am considering: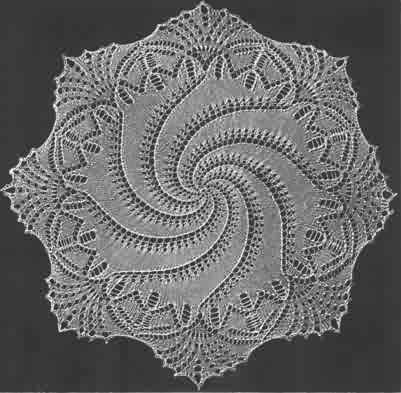 You can see the pattern
here
- I wanted to try something really challenging with this - I think I can continue the swirl portion of the pattern and use larger needles so that I can make a circular shawl out of this. I will keep you posted once I cast on. If anyone has tried and (hopefully succeeded) in making a shawl out of a doily pattern, drop me a note and let me know how it worked out and if you have any tips on how not to make my self crazy with this - I would truly appreciate it!
I also think that I want to make
this
out of this: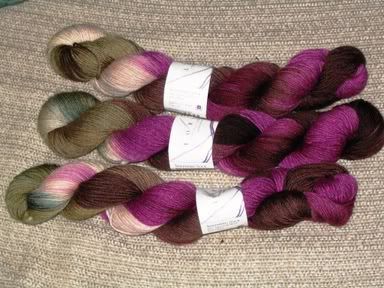 This is the Lorna's Laces I received from my SP7
I know the picture of the shawl is a little bright, but I really love the Feather and Fan stitch and with this pattern I can just knit till I run out of yarn - I think it will look gorgeous in the LL
The thread crochet cardi is looking good, slow going but very relaxing to work on.
The FBS I am knitting in the Alpaca/Angora blend is still on the needles as is the Spiral Nebula from the Alpaca I picked up in Rhinebeck - some day they will be done. I should really finish them before I start anything else - I know I having knitting ADD and I really need to finish something before I finish anything else!