Just as
someone else
I know, I was anxiously awaiting this weekend, my bestest bud, Marilyn was meeting me for our supposed to be monthly girls day out. This time she was coming into Queens, and I decided we would go somewhere different. We usually go to Forest Hills and I was tired of the same old sameold, instead we had a wonderful brunch at Cafe Henri in LIC, we split a goat cheese and mushroom and a chocolate banana crepe. It was yummy! Then we walked around the neighborhood - going in and out of shops - I found this at a second hand store: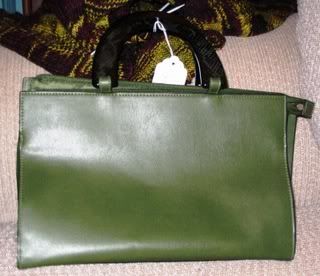 and these: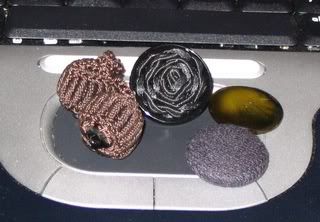 I love the black rose button.
Then we drove back to my neighborhood and I finally got a chance to visit the
Atlas Park Mall
, it is really weird, like stepping into a suburban mall dream sequence. It did not feel like Glendale at all. Some interesting stores though, saw a fabulous pair of brown suede boots I would kill for and lots of fall fashions. I love fall and can't wait for the cool weather to finally get here.
A few weeks ago I filled out a survey from
Senseo
on their coffee maker - when we were in Paris a few years ago the apt we stayed in had one of these and I fell in love with the coffee! I even wrote the company when we came home to see if it was available in the states. It was not at the time so I forgot about it - Then I received this email questionnaire, if I qualified they would send me a free coffee maker, so I filled it out and guess what - I got my coffee maker yesterday! I am so excited - I got the coffee maker and a box of coffee pods. I am going to bring it to work and put it in my office - finally one perfect cup of coffee whenever I want.
David left this morning for his last week in Albany - neither of us can wait till this is over. Next Sunday he leaves for 2 weeks in Atlanta and then he finally starts work in the Bronx. It will be so wonderful not to have him gone any more.