About nothing and everything All at once
David just left for Albany again -I really can't wait for this training to be over - I hate his being gone all week, its lonely and I miss him. Thursday I took Amtrak to Albany, he met me at the train station and we went out to dinner - Olive Garden, of course. We had a lovely time, and this hotel is much better than the last one. He has a suite with a little kitchen - I made him buy food to keep in his room, so that he is not eating fast food for every meal. Friday he had class so I spent the morning on my laptop in Starbucks and the afternoon at the Mall and Barnes & Noble. I spent all the overtime money I earned in Jersey last week but it was worth it - I bought cute shoes in payless, 2 fantastic bras in Lane Bryant - I wear a 38 DD and it is very hard to find bras that fit and are really supportive without looking matronly , so I was thrilled to find all these great bras in LB - pretty, sexy and full support -I will definitely buy my bras there from now on! I also picked up 2 CD's, My Chemical Romance and Taking Back Sunday and I spent $$ in CVS - I am a lipstick whore - can't resist buying new lipstick as well as hair care products - I spend a fortune on hair care. Funny how my hair never looks it.
We picked the boys up on the way back on Saturday - it was too bad the weather was so awful - we were stuck in the house all day. The boys are excited about starting HS tmrw. I really hope they like it and do well. I hated HS, so I try not to pass my negativity on to them - David loved HS, so hopefully they will too.
Yesterday, we took a ride to home depot for some washers, we have a leak in the bathroom. While we were there, we picked out some of the stuff we will be needing to refurnish our apt. We found a ceiling fan we liked for the living room, and I picked out paint for the living room, kitchen and hallway.
The best part of taking the train on Thursday was all the time I had to knit - I got a lot done on the test pattern: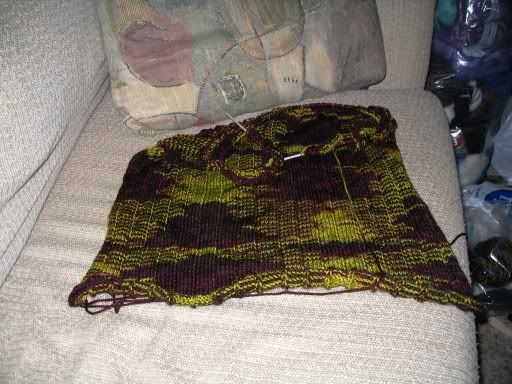 I have done more since and I hope to be up to the spilt by the time I get to LIC SnB tmrw night. It's been weeks since I was there and I am really looking forward to getting back, but it will be different now that Maritza is gone - she should be settling in to her new home, but I am really going to miss her!
One last look at the yarn: