Thursday I don't care about you
It's Friday i'm in love
Yes I am totally in love with KSH and the Granny Smith Cardigan.
Last night I cast on my size 3 bamboo circs the recomended 144 stitches
and knit the picot edging - what a pleasure that yarn is, I do love mohair
anyway but this stuff is spun sugar - lovely.
Here is what it looked like after I turned up the hem and knit both stitches
together: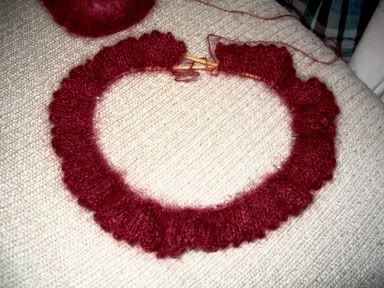 and this is a close-up: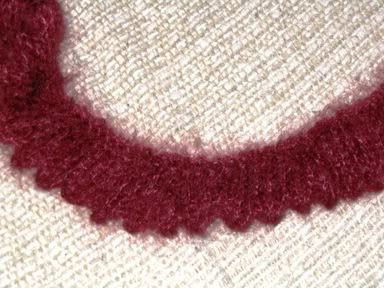 I can't wait to get back to this - I should have plenty of time this weekend - David is
going camping with Robert and they only thing I have planned is taking Jeff to MMOA tmrw to see the Hapshepsut exhibit - we are both Egypt addicts so it will be fun.

I am sure most of you have seen
this site
- there are literally hundreds of free patterns here form Garnstudio / Drops - check it out if you haven't.

Have a great weekend!