Finished Object Alert: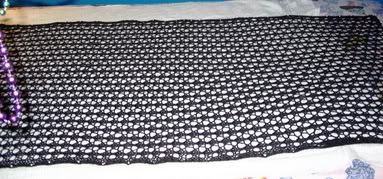 The never ending black stole is finished, I worked through most of the last cone at CommuniTea last night and finished the last repeat and garter edging when I got home last night. It was too late and I was too tired to block it then, so I waited till tonight to do it. This is what it looked like last night:
This is a close up of the stitch pattern: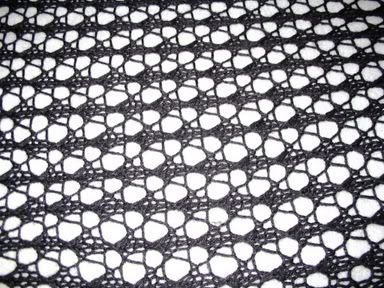 It is the trellis lace from 365 knitting patterns a year calendar - January 18. I cast on 65 stitches for the repeat and 3 edge stitches each side. The finished measurements are 26" x 67"
I hope the person I made it for likes it - I am mailing it out on Friday.
I also made a new necklace: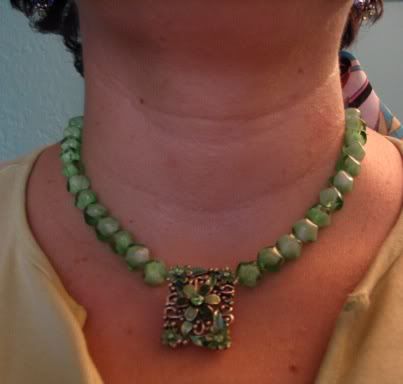 The green beads I received from another knitter last year - unfortunately, I don't remember exactly who sent them to me - I think it was Amanda of Clothesknit, as part of the prize package I won for coming in second in her Flower Basket Redux contest - anyway, I have been holding on to them till I could find the perfect components to match them. I found that flower piece at AC Moore and thought the color would match them well - there were 25 beads so I added chain to the back to make the necklace longer and voila - I actually made it a little longer then you see in this picture - the beading wire I originally used was very fine and this piece is a little heavy, so I restrung it on a heavier wire and made it a little longer too.
Tonight I am swatching my KSH for the Granny Smith Cardigan. I promised myself I could start this project once I finished the black stole, so back to the addictive KSH, it's mine, mine I tell you....