or old age creeping up either-
Friday night Marilyn and I went to see the GoGo's at the Nokia Theater. The show was fantastic, it is the 25th Anniversary of Beauty and the Beat, so for the opener the performed the whole album. I can't believe that album is 25 years old, I was a sophomore at NYU when that album was released, I was working part time at Merrill Lynch at the time and I bought it at a little record shop next to J&R that specialized in imports and new music. Some of those songs I haven't heard in almost 25 years. It was general admission - SRO - doors opened at 6 and the band went on at 8:30. For the 1 1/2 hour they played I felt 19 again, unfortunately the next day I felt closer to 50, man my legs and feet were killing me - At the show you had to show ID to get a bracelet so you can drink, I was laughing that I had seen the Band on their first tour and nobody proofed me then! We were so close to the stage, I have pictures on my cell phone, but I haven't figured out how to send them to my email so I could post them.
Marilyn and I had dinner at a really good Cuban restaurant before the show, Havana Central on 46th Street, we split empanadas, salad and pernil (roast pork - my favorite!) everything was yummy.
Yesterday was the first day of Smiley's big sale - I picked up this: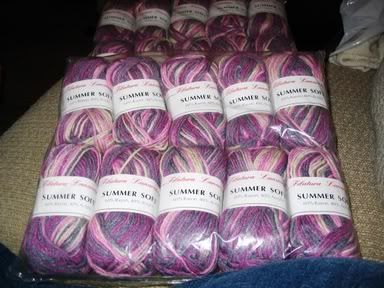 They had some really nice stuff - this is a rayon crepe, altogether I have ~1800 yards - I am thinking about using it for the Rockstar Cardigan. I am hoping they have more next Sat ( the last day of the sale) I would like to buy it in a solid for a summer wt button down cardigan. There was also this really pretty ribbon yarn 10 balls for $10 ~1000 yards, I would like to pick that up also - I think the lace twinset in the current Vouge Knitting would look really pretty in this yarn
Today I have to drive the boys to Scouts, one of their troop is making Eagle today, David will join us when he gets off work. This is the last Sunday he will be working, as of June 1st he is a retired NYPD officer. Some days I wish I could retire too, especially last week.