I tried posting this yesterday, but was having "issues" with my computer, so here I go trying it again.
I rushed home Tuesday night from my SnB in LIC to catch the season finale of Veronica Mars - if you have been a reader of this blog you know I am totally obsessed with this show. I do believe it is the best thing on television. For those of you who don't know it - it is the story of a HS girl who solves mysteries with her PI dad and the help of her friends and sometimes enemies too. Now I know that sounds like a really dumb premise for a tv show unless it it on the Disney Channel, but trust me - this is not Disney. Last season she had to solve the murder of her best friend, figure out who raped her, find her alcoholic mother while solving MOTW(mysteries of the week) and keeping her grades up so she could get a scholarship and get out of Neptune, her home town. The writing on this show is so good, the actors are amazing, especially Kristin Bell, Enrico Colantoni, papa Mars, Jason Dohring, her on again off again badboy boyfriend and this seasons stand out - Kyle Gallner, as Beaver, My name is Cassidy, Casablancas - The character development and storylines are some of the best -if not the best on the air now!
The season finale was really good! Veronica finally solved the mystery of who blew up a bus load of HS students, in the process she 1. Found out the the county supervisor, also know as the mayor, was a child molester, 2. Who really raped her last season, 3. That the rapist is the same person who blew up the bus, killed Curly Moran and that he was sexually abused by the Mayor; 4. Thought her father had been murdered, and 5. Was rescued(sort of) by her now on again love interest when said 'Psycho killer' tried to kill her on the roof of the Neptune Grand, before throwing himself off. Kind of campy and over the top - but so well written and acted, especially as I said, by Kyle Gallner (who you can now see on Big Love - another obsession) as the aforementioned psycho killer.
There is some question as to whether the show will be picked up next season by the new CW network - I really hope it is, I would sorely miss my VM fix if they didn't. I strongly recommend that you watch the summer reruns and tune in next season - it will be worth your while.
On to knitting stuff - the yarn I ordered from Red Bird Farms came - it is a fingering wt version of Zyphyr in the Jasper colorway 920 yards of wool/silk yummynis: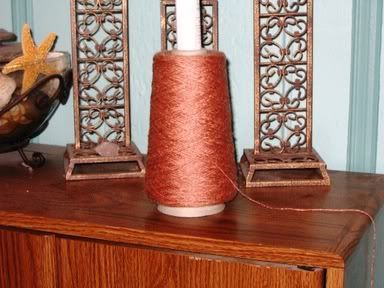 I also spent an evening winding up the Tencel lace wt I bought from Mystical Creations last year. This is 2100 yards of fine lace wt yarn in Vanilla: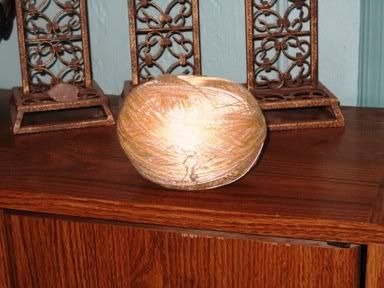 It took me over an hour to wind it all - I am think that the flirty ruffles shawl would look good in this.
Well lunch is over, so it is back to work for me.