No update pictures today - I can't seem to devote enough time to one project long enough to show any progress - that of course did not stop me from adding to my overflowing stash of yarn and patterns. After meeting with the new account manager, I walked over to Purl and spent the last of my Amex gift check and the money I earned doing a massage treatment last week.
Behold the fruits of my labors: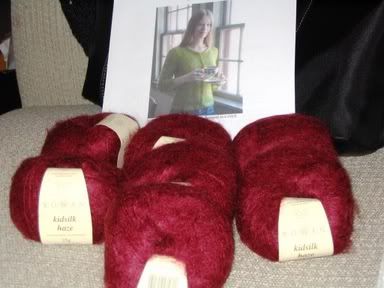 the KSH for my likker'd up granny cardigan - I am having a really hard time not spending all day fondling this yarn - it is addictive, my preciousssss.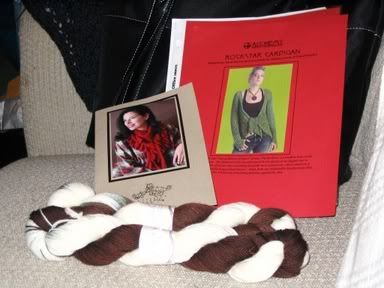 I also picked up 2 patterns the
Rockstar Cardigan
from Alchemy and a
silk alpaca babushka
from macandme that I think will look beautiful in the Brooks Farm yarn I picked up at Rhinebeck last year, and 2 skeins lorna's laces for a neck wrap.
I have made a deal with myself that as soon as I finish the black stole for my co-worker, I can start swatching the KSH, that should motivate me to finish the stole quickly