Odds and ends today - I decided I am not going to MS&W this year - boo hoo - My car is in desperate need of a new muffler and my inspection and registration are up in June, so what money I had saved up really needs to be spent on the Hyundai from Hell.
That is not to say I won't be buying anymore yarn, in fact I am preparing to scors some Kid Silk Crack on Tuesday - I am meeting a new Account Manager at our downtown branch which is on Varick St, a stones throw from Sullivan, so I plan on stopping at Purl and picking up 6 skeins of Liqueur for this: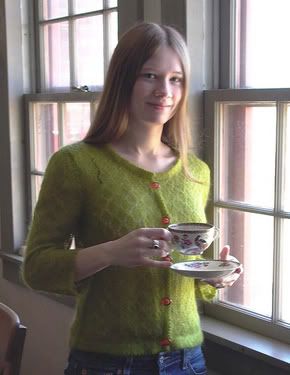 Though I think I will call her 'likker'd up granny' in deference to my color choice.
There is a KAL starting
here
I also ordered some yarn from Marie at
Brooklyn Handspun
and I ordered something - I can't remember what - from
Red Bird Knits
. I can't wait to see what it is, I know it will be gorgeous, all her yarn is, I just wish I wasn't having another brain cramp.
I started my first project from Big Girl Knits (not sure I love that title):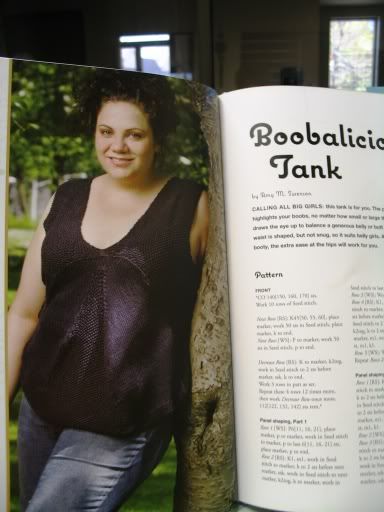 in a soft gold cotton I picked up at Smileys. I'll post pics when there is more to see than 10 rows of seed stitch.
I finished the 2nd cone of black wool/silk for my co-workers shawl. I really like this stitch pattern, it is quick and easy to remember, but looks complicated and quite pretty. I sent her a picture of my progress and she liked it so that is good.
David and Robert are going camping this weekend - Jeff is in trouble for not finishing school work again, so he is home with his mother, hopefully
doing some of his homework
.
I am going out with Marilyn tonight - I think I might stay over there since no one will be home tonight and I no longer like coming home to an empty apartment. Besides we will be drinking and I don't want to be driving when I have had a few or more.
Sunday I will be in Prospect Park for the Annual Sheep Shearing - I volunteer every year at
The Yarn Tree
- There are spinning, weaving and dying demos and a few of us teach the little ones how to finger crochet. It is always a lot of fun - I look forward to doing it - I think of this as my first Right of Spring. If you are in the area stop in!