Progress is coming along nicely on the test sweater - I finally got to the split, it felt like those 9 inches of knitting took forever and no matter how many rows I knit it never seemed to grow. Every time I measured it on Tuesday night it was still 8", some kind of weird inverse length to yarn ratio or sumthin'. But last night I finally reached the required and elusive 9" and joined the second ball of yarn and moved along swimmingly after that - did about 2 more inches when I realized that I had crossed the yarn and was knitting from the wrong ball - damn.rip.curse.rip. reknit. After all that this is what I had:
I am so loving the way the yarn is pooling and stripping. It makes me very happy.
I am feeling really lousy today, so I am planning to go home snuggle under the blanky and knit a few more rows. Once I get past the sleeves I will be finished in no time. Which is good, because I have to start swatching for the International Scarf Exchange. I have been contacted by the knitter making my scarf and I have contacted the person I am knitting for - I just need to decide on the pattern and yarn. I have narrowed it down to 2 patterns - the
swallowtail
or the Shetland Triangle from
Wrap Style
- Both are by Evelyn Clark. The yarn is either Knit Picks Alpaca Cloud in grape, or some lovely fingering wt I bought from
Red Bird Knits
in a pinky purpley color.
I also really want to finish the
LUG
- the weather is getting cooler and I so want to wear this now.
The coolest water bottle ever: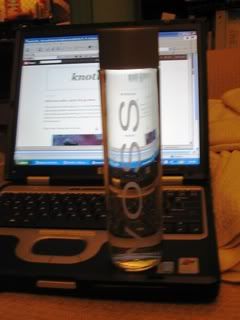 Thank you Jolie