Well I'm back - vacation was wonderful! We got home Sat morning at 5:10 am grabbed a cab (for once our luggage was not the last off the plane) and went straight to bed. When I finally woke up, I spent all day going through my email. Even after going no mail on all my lists, I had over 500 email + another 150 from work.
I really enjoyed this trip - David and I had a blast! He surprised me with a plane/helicopter trip to the Grand Canyon which was
awesome
- literally awe-inspiring! We had a grand time in Vegas - we actually won about $50. I went to a LYS (Gail's) and bought some Cascade 220 in an olive green that I am using for the Candle Flame stole (the cotton/alpaca wasn't working) and some Karabella Lace mohair for the Peacock stitch stole in the same book. From Vegas we drove across Nevada into Utah to Zion - this is one of the most beautiful and peaceful places I have ever been. After driving through the desert seeing the beautiful greenery and majestic mountains - it is easy to see why the early visitors believed they had found Zion.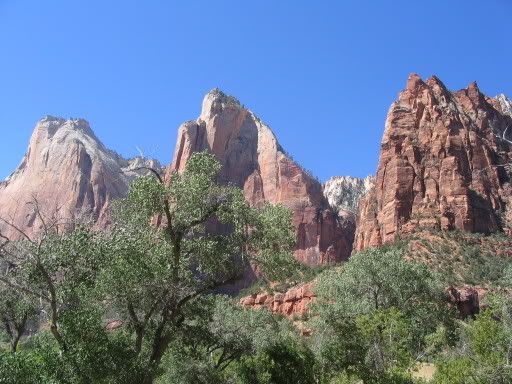 The Court of the Patriarchs
I wish we had spent more time there - we are already making plans to go back with the boys.
From there we headed across the State to Monument Valley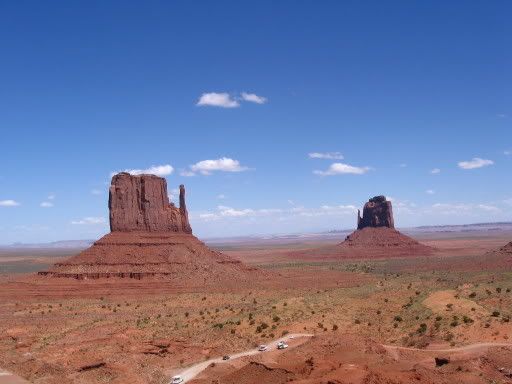 stopping along the way to take pictures and look at trains.
We drove north through Utah to Ogden - where we stayed (There is a wonderful LYS there - the Needlepoint Joint - spent much good time there!) From there we drove into SLC and the surrounding area. I even got to meet
Margene
&
Laurie
and the other wonderful knitters at their SnB - I was hoping to meet
Susan
too, but she was ill and couldn't be there.
We did all the touristy things - walked around SLC - visited Temple Square, antelope Island, watched lots of trains - even went to Promontory Summit (where the golden spike that joined the railroad from the East Coast & West Coast had been), visited a copper mine and put mucho miles on the rent a car.
On our last day we drove to Wyoming and Idaho - that made 6 states seen on this trip CA, NV, AZ, UT, WY & ID. Talk about a road trip! I leave you with this picture I took of David and I at the Visitor Center in Echo, UT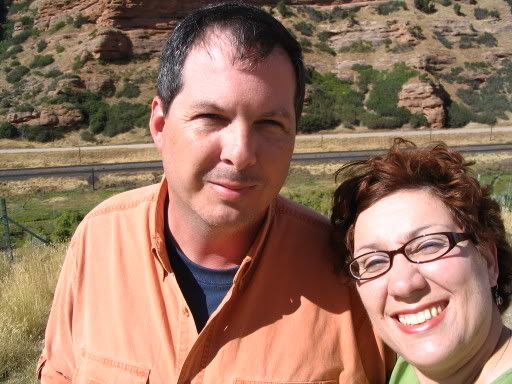 If you want to see all my pictures you can go
here
for my photo album.