Well I finally finished Clue 1: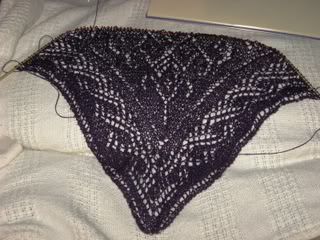 Not too bad, I only had to rip it out once, but it is a fun knit and I am enjoying trying to guess what the theme is. I see a scarab in the design I have done so far - my guess is Isis and Osiris. Melanie's other too Mystery Stoles has mythic themes, the first Leda's Dream was based on the myth of Leda and the Swan and her second was Scheherazade of 1001 Arabian Nights fame, so I think this one might have an Egyptian theme. Whatever it is, it is becoming a beautiful stole.
Here is a picture of a really cool tool I picked up in AC Moore: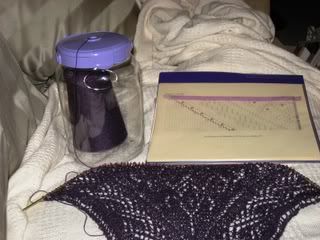 It's called a yarntainer - it's a large jar with a snap lid that has a hole in the top - perfect for use with cones.
I have bought a whole bunch of them to store and show off my yarn. We are redecorating the apt. and have put new bookcases in the livingr
oom - I have filled these with yarn and displayed them on the shelves.
Things have been very crazy here - one of my stepsons, Robert has moved in with us, so we have been rearranging things so he has space. It has taken some getting used to, but it is all good. We are all learning how to live together comfortably.