Lots to post today.
[Can I just tell you I hate Justin Timberlake - I have fuse on in the background and the are showing Sexyback - maybe it is just me, but no f*in way sexy and JT go in the same sentence.]
Back to our regularly scheduled blogging
I had a good week, it was great coming hoe to a quite empty apartment, but I missed David a lot at night, I haven't had a good nights sleep since he left last Sunday to go camping. I don't know what I will do while he is away in Albany - Excedrin PM?
At least Tuesday night was LIC knitters, Burt, one of the knitters, brought a shopping bag full of fresh pears. They are sitting in a brown bag in my kitchen ripening. I see a pear tart in my future. I really enjoy Tuesday nights.
I finally got my car fixed - new sensor no check engine light. I brought it in Tuesday morning, but the part never came so I had to bring it back on Wednesday, but now it is running nicely. Oh and I didn't have to drive the VP afterall - one of the Account Manager's took him instead. He was meeting his wife at the airport, she was supposed to arrive at 5, but will all the increased security and tension on Wed, she didn't even board her flight till after 4. I don't think she landed till after 8.
Thursday night I went out with some friends for drinks, it's been a long time since I sat around drinking and laughing with my girlfriends. Seems like all the women I was really close to just drifted away; family, work, life, just seemed to push us apart. Slowly, steadily - like the continental drift, before you realize, the whole map has changed. I didn't notice till it was too late. I had a great time, we were loud, overly caffeinated and laughing really hard. It was a good thing.
Of course Friday morning I wasn't exactly in peak form, and I had to run a webex training session at 7:30 that morning, and I hadn't exactly gone through the material completely beforehand - it's a good thing I can think fast on my feet. I had a professor once that said, if you aren't really sure, but you sound like you know what you are talking about, people will believe you. It's true. I held another session at 4 and that one went smoother.
Last night I went over Marilyn's - we ordered in Greek food and ate out in the yard. I really wish I had a backyard. Today I am supposed to clean house before David gets home tmrw. I am blogging instead.
I won a bid on eBay for cashmere yarn from ColourmartUK 3 cones of 1150 yards each 3500 total: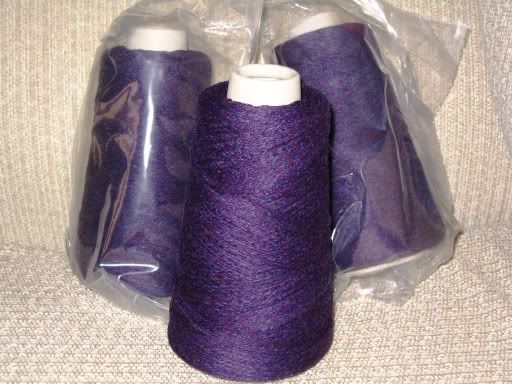 They are mill ends so the yarn needs to be washed after knitting to bloom, they recommend knitting a swatch, then washing it so see how it looks. It is lace wt so I am thinking I could double it to make a sweater - it would also make a beautiful shawl - maybe I will use one for a shawl and 2 cones together for a sweater, or does anyone know of a good lace wt sweater pattern?
I also ordered 3 skeins of Zephyr from theknitter.com in vanilla: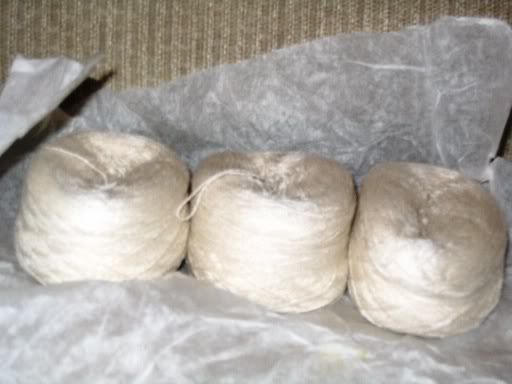 I am planning on using this for the Flirty Ruffles Shawl from Fibertrends.
and here is the cell phone cover I made: