I am leaving Sunday for a week in NJ - another business trip. Yesterday my drive back from Hartford took 3 1/2 hours and my check engine light is on again. Oh well.
I did the swatch for
Melissa's
test pattern last night - her recommended needle size is 5 but I got gauge with a 3 and I am spot on perfect row and stitch! See:
18 stitches and 31 rows = 4"
So now I have cast on and am knitting the test pattern - I will post pictures as I progress, they will just be slightly obscure, since the pattern won't be available from
Sundara
till the end of September.
Doesn't the yarn remind you of these: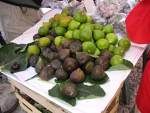 I showed the yarn to a few people who read my blog and they thought that the picture doesn't do justice to the color.