Weak, thinning bone. That's what the doctor tells me anyway. I have to go for a bone density test Monday to see how weak and thin - I'll keep you posted.
On to much more interesting news - last night was my SnB nite - I swear I get less knitting done on knit night then any other - lots of laughing and talking, but not much knitting. Last night included my second most favorite thing - shopping! Lookie what I bought from
Susan
: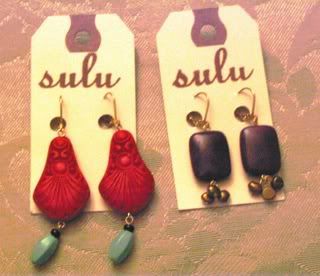 Pardon the crappy photography - I took these this morning in a rush. Aren't they gorgeous? I love Susan's designs, and you too gentle reader can own your own gorgeous pieces - visit her
etsy shop
She is running a free shipping special this month, so you can get great earrings and save money - buy 2 pair! It is worth it to see how beautifully she packages her designs when she ships them out.
The purple stone earrings are a perfect match for my Sundara sweater, look: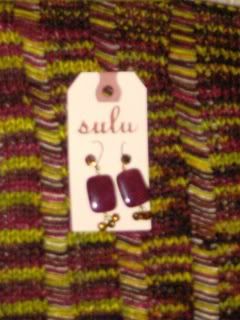 (again, sorry for the crappy picture)
Just a glimpse of the finished sweater - you can see the whole thing Saturday at Rhinebeck. I should be pretty easy to spot in those amazing colors.
See some of you there!