It's Friday I'm in love
Today is my 13th anniversary - I can't believe 13 years have passed, it seems like only yesterday we met.
Happy Anniversary David - I love you!
ETA Pictures!:
Last night when I got home from work, my ISE package had arrived. My scarf buddy was Victoria from Glasgow, she sent me an absolutely beautiful Irish Hiking Scarf in the most perfect colors - rusts, browns and greens! All my favorite colors, she also included these lovely fingerless mitts to match, a skein of Louisa Harding yarn, an English chocolate bar and a postcard from Glasgow. I will post pictures as soon as I buy new batteries for my camera. I love everything she sent - I wore the scarf and mitts last night to meet some friends and received many compliments on the set. I am wearing it today also and will be all weekend too. Thank you Victoria!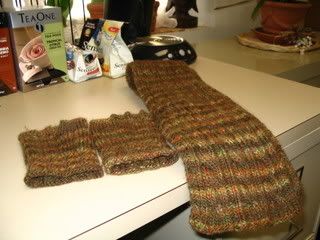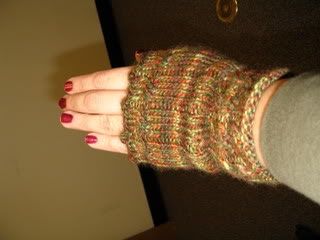 Photos taken in my office - sorry for the non artistic backgrounds
Tonight I am going out with some friends for Thai - I love Thai. No David and I are not going out tonight - there's a boyscout meeting tonight. 13 years and the thrill is gone, thrown over for a boyscout meeting! We will celebrate tomorrow night. The Olive Garden - it is our place.
On to knitting news - I have decided to frog my Likker'd Up Granny Smith - I tried it on and it is enormous. I was afraid it would be too small so I upsized it, but it is just way to big. I have also lost almost 15 lbs and am planning to loose a lot more and I really love that sweater and want to be able to wear it for years to come, so..... off to the frog pond and I will reknit it smaller. I have the KSH stashed in the freezer - we will see if that really works or if it is just an UKM (urban knitting myth).
And if I ever needed proof that I need to stay on my diet - one more Rhinebeck picture courtesy of Dana: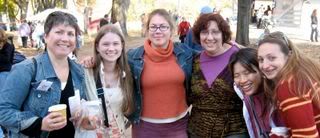 Believe me Melissa's sweater is really lovely - ignore the model.
Oh, yeah I have 1 more pattern repeat and the edging left on the scarf I am knitting for the ISE - it will be finished this weekend and on it's way to Australia on Monday - again pics when I get those damn batteries. This is a fantastic pattern, I am going to make myself one next in that Fleece Artist blue faced leicester that I bought from Red Bird Knits last year. I think that will look spectacular, IMHO.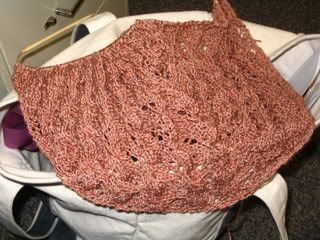 Not much to look at now - but just wait till it's blocked
Happy Friday!