Last night was SnB night in LIC. It was also a surprise bridal shower for Kaffia, the lovely owner: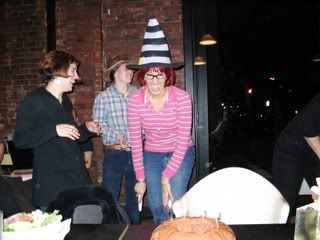 I made chocolate cake, Helen knit a lovely lace garter and Carolyn picked up a bunch of kitchen items off Kaffia's bridal registry. It was fun and I think the bride enjoyed the festivities.
On a knitting note - the Shetland Triangle is finished and making it's way to my scarf pal.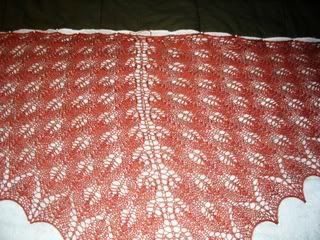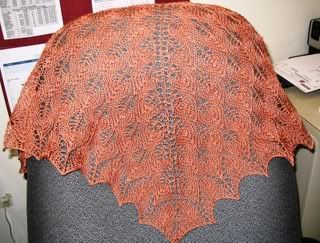 I really enjoyed this pattern and plan to make one for myself soon.
This past weekend was great.
Maritza
was in from MA, Friday night we went out for Thai and Saturday we met for brunch at Cafe Henri - good food and great company all weekend - perfect!
Sunday night David and I stayed home, ordered in and relaxed on the sofa watch season 2 of Andromeda - a lovely anniversary celebration.
Tonight I am meeting Marilyn for dinner at our favorite Turkish place, she just got back from London and I can't wait to hear all about it.