Well I found out yesterday that I did not get the position that I applied for. To tell the truth, although I am disappointed, I am not really surprised and I am a little relieved. Not surprised because my getting the position was a longshot - I don't really have the experience needed; and relieved, cause if I did get the job it would have been a lot more work and I would have had a large learning curve to get over as well as dealing with a new manager (who hasn't been hired yet). I said from the beginning that however this turned out I would consider it a learning experience - I set up time tomorrow to speak with one of the people who interviewed me to see what areas I need to work on and what skills sets I need to develop to move up the next time a position becomes available.
In knitting news, I am almost finished with one
Natalya
fingerless glove - a nice quick easy knit. I will be frogging my grannie this weekend - I want to reknit in a size that is appropriate (I lost 3 more lbs!!) so I am going down a needle size and swatching, swatching swatching till I get it right.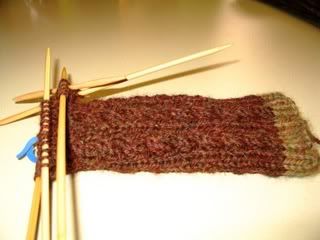 I am planning on casting on the Triangle Shetland for myself also, that was a terrific pattern and after a few rows the chart was completely memorized. Have I told you how much I love knitting lace?