My scarf buddy received her shawl yesterday - I am so happy she liked it. I always worry that the person receiving from me will be disappointed, but she was pleased and like the color and the yarn so I am happy.
Last night was LIC knitting night - I had hoped to finish the second Natalya, but as usual it was more talk and less knit. I did manage to pick these up though: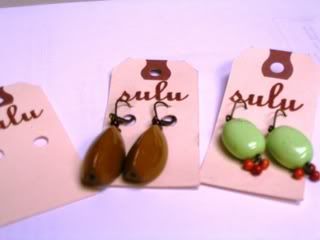 I bought 3 pair, but I can't show you the third cause I am wearing them, and since I got caught in the rain this morning and my hair looks like a drowned cat, I will photograph them at a later date. Love love love
Susan's
work!
When I got home last night, I turned on the CNN and watched as the election results came in and cast on for this: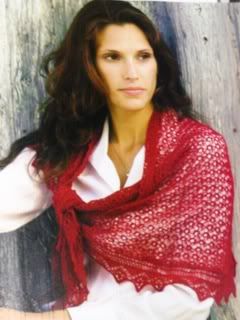 It is out of Victorian Lace Today. I had to cast on 3 times before I got it - it uses the backward look cast on and has pattern stitches on every row. I finally had to use stitch markers on each repeat to keep it straight. I am using Cinnabar Zyphyr I have in my stash, I thought the shawl looked so pretty in red that I wanted to use the same color. It hard to see in the picture, but the stitch pattern looks like the birds eye pattern - it's called a spider web.
Tonight I will watch the hockey game and see how much more I can get done.