But appearently, not my stepsons.
Last night I took them to Target for some Christmas shopping, they needed to pick up gifts for their mother, step-father, father and baby brother. After spending much time in the computer game and action figure aisles, Jeff tells me he wants a Segway. Images of Weird Al and the the lyrics to "White and Nerdy" won't leave my head.
As if I didn't have enough on the needles, I started a new project. 2 weeks ago, at the LIC knitnight, Helen brought a hat she had knit out of
Paton's SWS
. It was really lovely yarn, reminded me of Noro, but much much softer. Last weekend when I was out shopping with David, we stopped at the B&N on Rt 110 - there is a Michael's in the same shopping center, so I ran in to see if they carried this yarn. I bought 8 skeins of Natural Earth: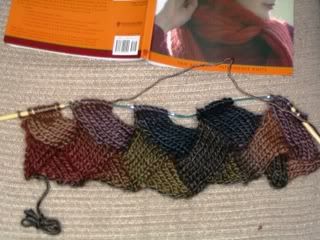 a slightly adapted Lady Eleanor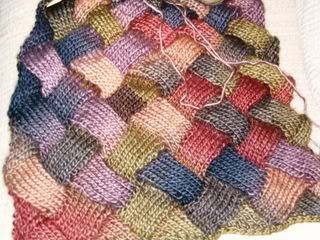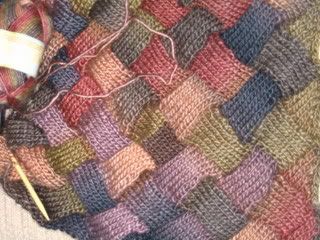 Pattern: Lady Eleanor - Scarf style
Changes: 5 base triangles i/o 7 on size 11 needles
The best part of this is I taught myself to knit backwards! It makes working the sections really fast and easy, no turning the work around every row.
I really would like to finish this before the holidays - I think it will be perfect for all the get togethers this time of year.
Speaking of get togethers - tonight is David's last NYPD Christmas party. He will get his retirement plaque and stuff from his old unit. It is at Bantry Bay Publick House on Greenpoint Ave in LIC. It should be fun.
Well I want to finish a few more rows on Ellie so it's off to knit I go........