The warm weather should finally be ending tonight - of course I have to drive to Brooklyn to pick up the kids in the rain and wind. I should, however get to wear my great ISE scarf and natalya wrist warmers again - yeah!
I just wanted to post an update on my VLT Curved shawl: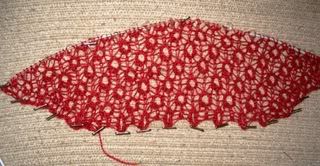 and closeup detail: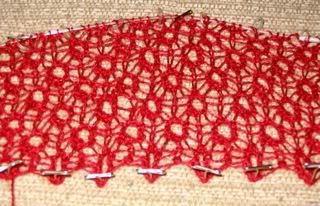 I really love this pattern, but it requires great concentration on my part not to mess up. I still have a problem on the wrong side rows. I can not seem to get comfortable with reading the chart left to right for the odd # rows and right to left for the even # rows. I was out with some friends last night trying to work on this while listening to the conversation around me. I was doing pretty good till someone started talking about great quotes from our idiot president and brought up his I AM THE DECIDER speech and I completely lost count and missed numerous YO's that I had to fix before I went to bed last night. That you W. As you can see though I did get them fixed.
I love this pattern and can't wait to wear it!
I am really looking forward to this weekend - work has been draining lately and I really need a few days to recoup.
Also thank you to everyone who left me music suggestions for my step sons. If you left a suggestion for me, please drop me an email at knitwitch AT gmail Dot com - I have a little thank you for each of you!
The e e e, that's alll folks!