This has been a very good weekend, I did lots of things - just no knitting.
Thursday's dinner with my Manhattan Sales team was very good - We went to
Gasparino's
on East 6th Street. The food was very good and the restaurant was very pretty - we took up almost the whole place. Most of the Account Managers and my boss where going to a bar afterwards, but I decided I had had enough and wanted to go home to my soft warm bed!
Friday, I had off so I slept in then went grocery shopping. My LIC knitting group is having a Christmas party at Carolyn's place on Tuesday and I am planning to make a Pear Ginger Gallette and in addition to those ingredients, I needed to pick up the ingredients for baked ziti for the Boy Scout Pot Luck and Turkey Sausage for the Escarole, White Bean and Sausage I am making for tonight's Scrabble night dinner.
David and I and really bad around the holidays, we celebrate the 25 days of Christmas, we keep giving each other presents every couple of days - By Christmas Eve there is nothing under the tree but the boys gifts! Friday he gave me a box to open - inside what this: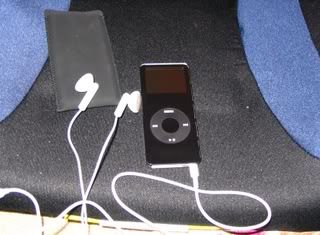 Good bye FauxPod - I've got an iPod!
I spent most of yesterday downloading CD's onto it - Happy Happy! It is on top of the heated back massager he bought me for my birthday.
Saturday I opened 2 - a lens and adaptor for my digital camera.
I realized I didn't post a very good picture of the Tatami Pattern, I showed you the lovely red envelope it is packaged in, but here is what the pattern looks like: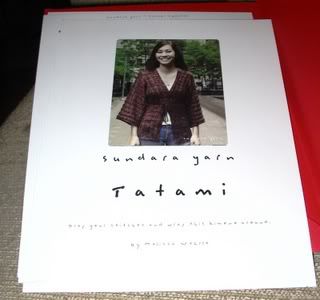 I love the way Sundara is presenting these patterns!
I also decided that the lovely silk yarn she sent is destined to become this: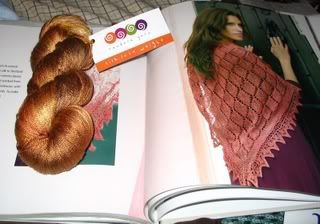 from Victorian Lace Today.