Feeling a little better after yesterday's funk - I'm still broke and still p#ssed I have to pay to replace a sensor that in no way is effecting the safety or drivability of my car. But I got to play with yarn all day and that improved my outlook immeasurably!
I wanted to make something yesterday - I wanted a complete project start to finish, so I took that lovely green mohair that
Trixie
sent me ( I have be fondling this yarn since I received it) There was only one skein and I wanted to keep it pure- what to do? what to do? There was only one thing to do - grabbed the Crochet Stitch Bible and a couple of large hooks ('cause nothing says instead gratification like a large hook) and whipped this up: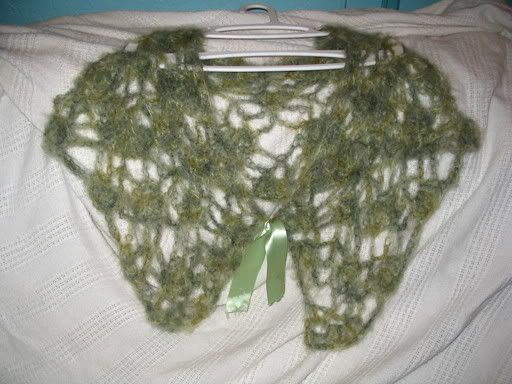 Here is a detail close up:
Crochet Lace! I want to get a longer ribbon and weave it all around the neck, but otherwise it is done - took all of maybe 3 hours.
One more - please ignore my funky colored bathroom - it came with the apartment.