The best part of Friday is the free time I have while David and the boys are at Boyscouts - I love having the apt to myself.
This was a pretty good week - got a lot done at work, found a new author I really love and found this in the mail from
Trixie
( who is a non-knitter!):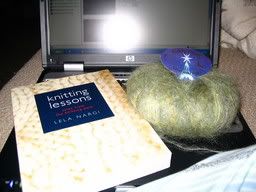 This yarn is so pretty! and just my color too - soft, sagey green. I have wanted to read this book for a while - this package made my week.
I ordered a few books from Amazon last week - now that school is finished I have time to read for pleasure again. I am a voracious reader - I will read almost anything - as long as it is well written - I have no patience for sloppy writings. One of the books Amazon recommended was
"Dead Witch Walking" by Kim Harrison
- it looked interesting - so I ordered it, along with
"The Jupiter Myth" by Lindsey Davis
- I love historical mysteries and hers are the best! Well I loved DADA - I finished it in a day - I ran out to B&N and bought the follow up "The Good, the Bad and the Undead. Finished that last night - the third book - Every Which Way but Dead is due out this month and you know I will be buying that too!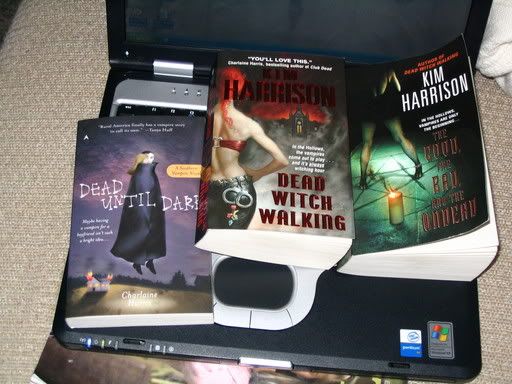 I also picked up -
"Dead Until Dark" by Charlaine Harris
- What can I say - I am in a supernatural mood!
I also got this in the mail: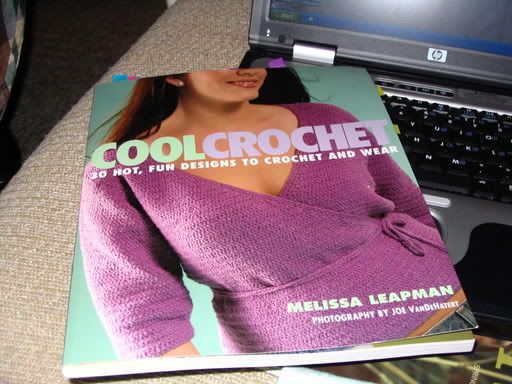 I had preordered it from Amazon a while ago and it finally came - there are some great patterns in here - I mentioned this before - but today I received my elann newsletter and it had 2 perfect yarns in there that will work perfect for 2 patterns I want to make in this book - Pakucho Organic Cotton for Stacy and Silk City Perle for Pennina - I love the cover sweater too - it is made from Classic Elite Star - a cotton lycra blend worsted wt yarn - can anyone recommend an alternate for this? If anyone is making this - what yarn are you using?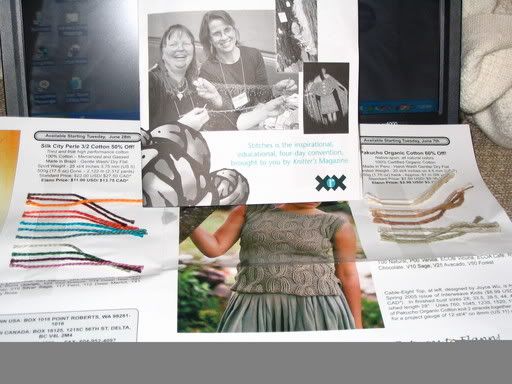 Here is the yarn and also the Stitches East catalog - there are a few classes I would really like to take - One on Japanese Shortrows, Beaded Shawlette & The Art of Knitting Backwards - I don't know if I will be able to attend any, but it would be fun.
Well the D & the boys will be home soon and I want to work some more on my shawl...later......