Sorry it has been so long since my last post - working is keeping me very very busy. Monday and Tuesday I was at a meeting at Foxwoods - it was fabulous. I even managed to get in a manicure thanks to one of my Account Managers.
When I got home (after a 4 hour drive back from CT - 2 hours to go 9 miles due to construction!!!) I had 2! packages waiting for me - the first one was from my jewelry swap partner from pinkpurpleandorange: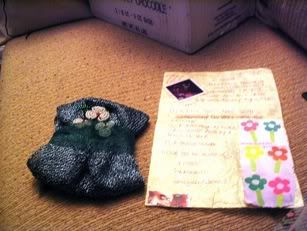 from
Francesca
in Italy. It was wrapped so pretty in this really neat metallic knit fabric and inside was a pretty beaded flower, a leather butterfly pin and a beaded ring - me likes everything!
The 2nd box was from my SP7 - who had emailed me and left comments on my disappearance from the internet - she sent me yummy goodies - dates, chocolate covered almonds, pistachio nuts and olive -mmmm - I am going to make date nut bread as soon as I have a few minutes to find my recipe! Thank you SP!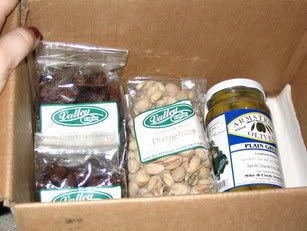 I even have a FO to show off - I am incredibly pleased with how this turned out - it is the scarf for Celia's International Scarf Exchange: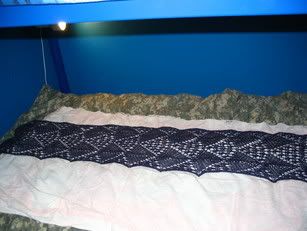 blocking - it is well over 6' long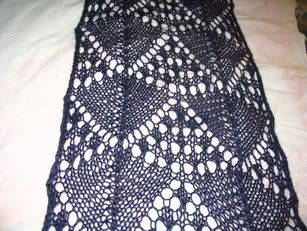 close-up
I used 4 ball of elann baby cashmere - it is so soft and silky next to you skin. I hope my exchange partner loves it as much as I do. The pattern was very simple to follow and after the first few repeats I didn't even need the chart anymore. I would really like to make myself one a little wider - more of a stole than a scarf.