I have been a bad blogger: between the new job, going to Albany and blogger being difficult - I have not posted in a while. I have also not knitted or crocheted in a while either. I thought I would take the train to Albany and have lots of fiber time on the trip, but I ended up driving so nothing worked on that trip.
The new job is great - though so far all I have really done is 1. order lots of office supplies; 2. spend hours on the phone with system support to get my computer access upgraded and new programs installed; 3. Buy curtains, curtain rod, planters, a bamboo placemat and a statue of Buddha. Next week is a sales meeting, so I will meet the LI sales staff I will be working with. I have had some training - the trip to Albany was great - I meet the regional and another district assistant and trained on some of the reports I will be responsible for. I also got to stay in a very nice hotel. The Desmond - here is a pic of the view from my small balcony out on to the the indoor atrium: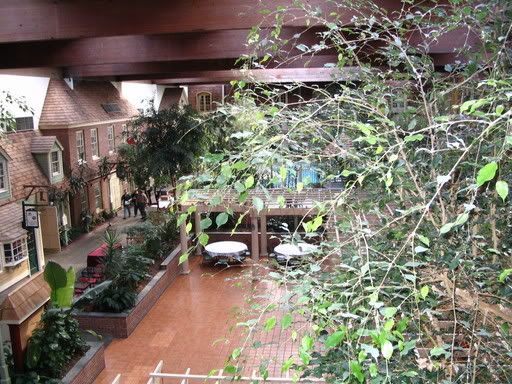 I did buy myself a few presents to celebrate my promotion: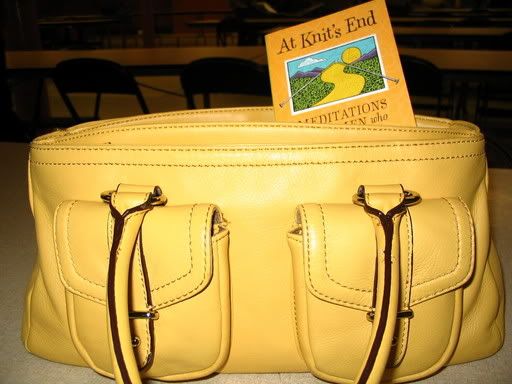 New spring bag and
yarnharlot's
book - which is really wonderful and I am getting used people staring at me 'cause I am laughing out loud while reading.
I also got a Amazon gift certificate from my SP4. I proceeded to buy
this
immediately plus 2 other paperbacks I wanted. Thank you SP! I want to make
this
out of
this yarn
in autumn.
I left my knitting bag at my mother's last weekend - so no work on Good Bias - I will pick it up tomorrow and hopefully get caught up - I really want to finish it. I have put mariah away for the summer - I don't want to think about winter anymore. I also joined another swap at crochetville - 2 actually - the summer scarf swap and the button swap. I like joining their swaps because I know I will receive my items. I have been pretty unlucky with others that I have joined. I have one SP on another list that I have never heard from - this is a year long exchange that started in January, there have been a few single item swaps that I never received anything on either - 1 I never even received an acknowledgement of the item I sent out. It bothers me that people sign up for stuff and don't bother following through on their commitment - if you aren't going to do it - don't join!
I have to get out my final SP packages soon - I haven't decided what I want to send yet, I want the last one to be special.