It' s a quiet night tonight - just David and I, finally alone after all the holiday festivities. I hope everyone had a wonder celebration and that Santa brought you everything you wanted.
We had a very nice day. David picked the boys up Friday afternoon - I left work a little early - finished my shopping and came home to a lovely supper and tree decorating.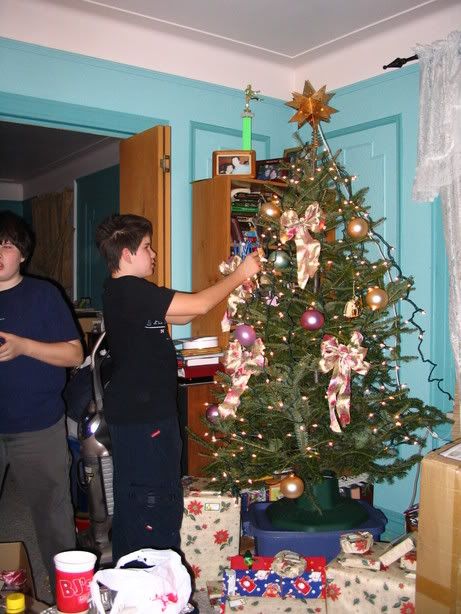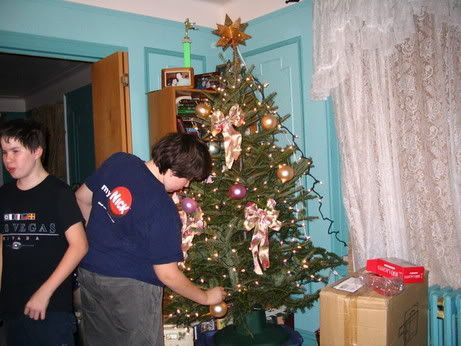 The boys did all the decorating this year, all I did were the lights. I think they did a really good job: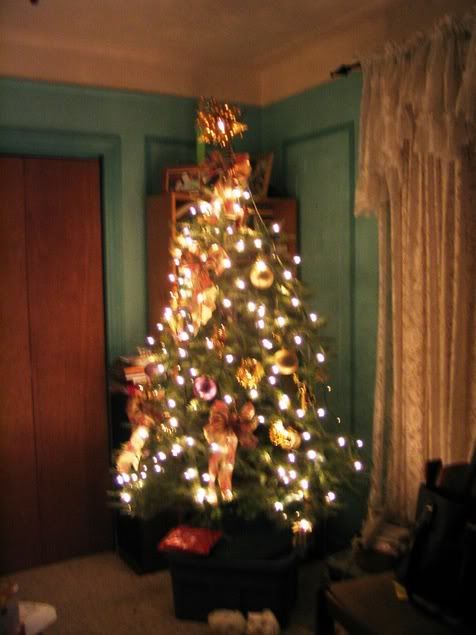 Then we got down to the fun stuff- opening presents! I got Veronica Mars Season 1 DVD and new luggage - totally what I wanted!
For Christmas Eve - we had the boys till about 6pm, so I invited my mother and brother to dinner - I made ravioli with meat sauce and garlic bread and a coconut creme pie for dessert.
We had a good time, but my mother got cranky and irritable so it put a slight damper on the evening. David left to take the boys home, my brother took my mother home and I did the dishes. My brother gave me an Amazon gift certificate so after the dishes I went on line and picked out a few things:
1.
Folk Shawls
2.
The Big Easy
- one of my favorite movies! This is the movie that made me go to New Orleans
3.
Haughty Melodic
- Mike Doughty
4.
46bliss
For Christmas we went over my friends, Marilyn and Robert's for dinner. We had a lovely time, good food, good wine, good company and good conversation. The holidays really are about being with the people you love. More presents were exchanged - David got Forbidden Planet on DVD and I received a Music Trivia DVD game, a mystery book by Robert Rankin and Nancie Wiseman's
Knitted Shawls, Stoles and Scarves
- I have already picked out a few that I want to make.
Today was a day to do nothing much, we slept in then took a ride out to the Island just to pass some time, came home ordered pizza and settled in for the night. Now I am watching the Rangers (they are losing - bah humbug) and posting on my blog. Which brings me to the title of this post [ it is also a song by Mike Doughty] - there is a Starbucks that just opened on Union Tpke in Glendale in the Stop & Shop shopping center - it's where the new AC Moore is too - they have a couple of easy chairs and some tables - if anyone would be interested in meeting there for a little knitting, a little coffee and some conversation - drop me a line. There is plenty of parking available and with the AC Moore right there, we'd never have to worry about missing supplies!
Tomorrow it is back to work for me - I wish I could have taken the week off, but I have to much to do. Oh well.