David left for work this morning at 5:30, at 5:31 I hear him come back in - "What's wrong?" I ask - "I think it would be a good idea if I wore my boots today - since it is snowing and all" he says. "Snow! No sh#$" says I as I roll over and bury my head under the down comforter. I do love Sundays.
So I promised some pictures (By the way - thank you to everyone who left encouraging comments and emails - I appreciate your good thoughts)
First I want to show progress photos on the scarf I am making for the International Scarf Exchange: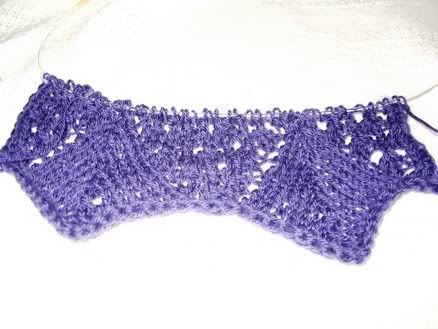 and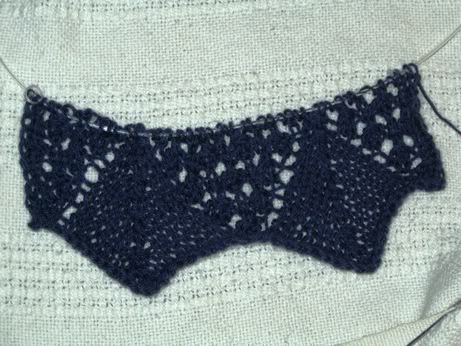 Neither is true to color - it is more of a warm plum not a blue/purple. I like the pattern and the yarn is a dream to knit with. I am also knitting a hat. I have to make my own pattern since there isn't one available. I am thinking I will go down 1 or 2 needle sizes - the scarf is on size 7, so I am thinking a size 5 would be good - I am planning to start with about 1 in of stockinette before starting the pattern so the edge will roll then knit the pattern repeat 2x before starting the decreases. I am hoping this will work and look good. Anyone have any suggestions?
I also mentioned I had made some new necklaces - here are a couple of pictures: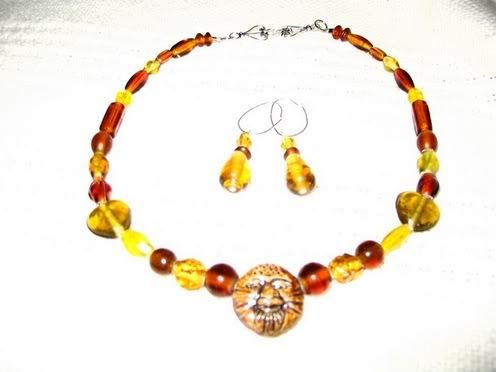 This is made from some glass beads I picked up at the New A.C. Moore that just opened by me on Union Tpke - I really like they way this turned out.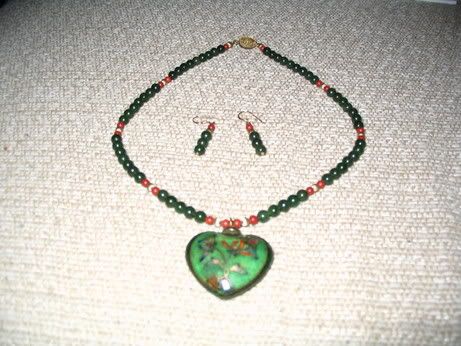 This is made from a necklace I had bought over 20 years ago at Brentanno's when they where still on 5th Ave. It broke a long time ago - I saved the heart and as many of the jade beads as I could. I bought some gold beads and red jasper from Firemountain Beads and put them all together in this design. I really like the jade and red jasper together. I had enough to make matching earrings - I will also make a bracelet, but I need to buy a gold clasp to finish that.
This is a picture of some books I got from my bookclub and what I scored at The Strand last time I was downtown: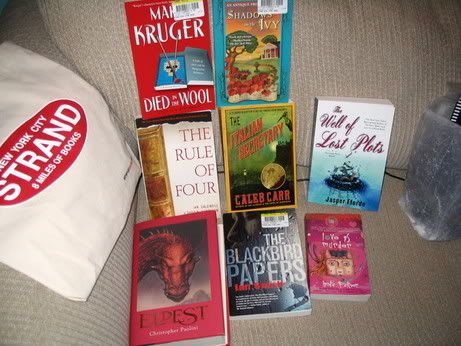 I finished The Rule of Four - If anyone wants to read it - drop me a line and I will mail it to you - I liked it - kind of reminded me of what the Da Vinci Code would have been like if written by Umberto Eco.
Now I really should go out and clean off my car, since it doesn't look like it is going to melt.
ETA: I went to go outside and found a package in the hall - my Crochetville Holiday Gift Exchange package came!!!! Melanie emailed my that she was sending it out on the 29th and since if was coming from West Yorkshire - I thought it would take longer, I am so pleased it came today. I have really needed a pick-me-up and all the wonderful goodies she sent have certainly done the trick!
Look: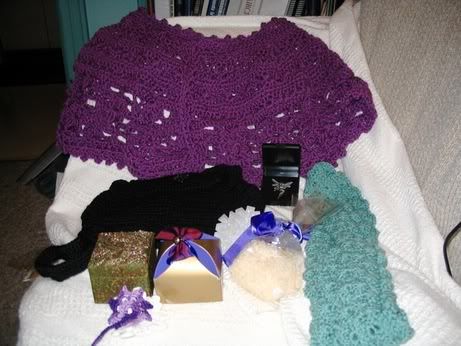 Here is closeup of the fairy broach: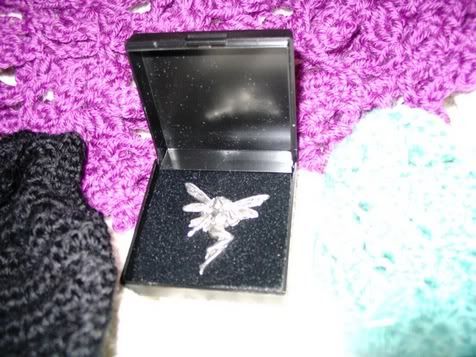 There is a beautiful wool capelet, a crochet wool purse, a wool skinny scarf, bath salts, chocolates, a trinket box, a crochet bookmark and snowflake. All beautifully made and gratefully received - Thank you again Melanie.
Here is a picture of my snowy car: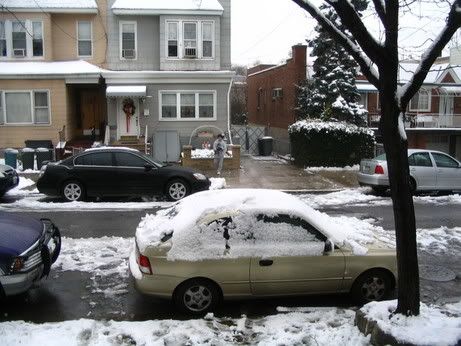 PS the color of the capelet in the top picture is closest to what the scarf color is like.