In 5 days I will turn 44. I have decided to take the day off from work and treat myself to a little much needed R&R. First up will be a haircut - I am looking very shaggy these days. Then I plan to hop on the F and head downtown. I want to make this:
Purl carries Alchemy patterns, but doesn't have it listed on their website - I just called and they think they might have it - if not they will order it. I am hoping to be able to pick it up with some yarn on Monday. I also plan to hit The Point and School Products and anything else that strikes my fancy.
I want to see Walk the Line too and since no one I know will go with me - I might try to catch the matinee some where. I love me some Johnny Cash!
Scarf update: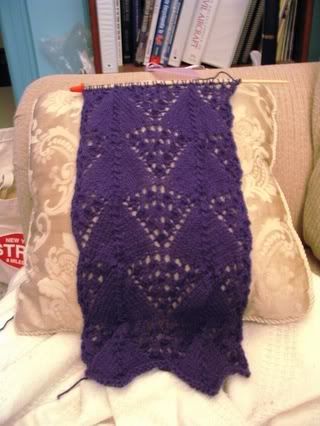 I have almost finished the first half - each side is knit then grafted together - I even picked up a great idea for the hat from
Susan
that is based on a doily pattern.
I just need to sit and knit!