Life has been hectic - stuff going on at home and at work - both my District Managers are having meeting at the same time - One in Conn on Friday and the on Monday & Tues in Port Jeff. I have been running around trying to arrange conference rooms, reservations, directions, AV equipment and what not and trying very hard not to send the Conn stuff to LI and vice versa!
One thing that is helping make my job easier is my new toy: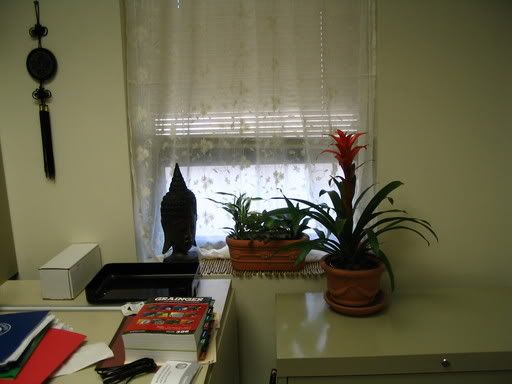 my new laptop and my zen office environment.
I received some more cool buttons in the swap:
Quick shot of my bears: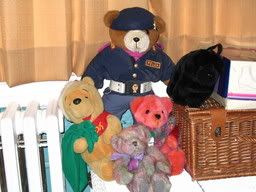 the tall one in the back David bought for me in Rome - it is a Polizia Bear we found in a Police shop around the corner from our Hotel.
Free Stuff!
These are started embroidery kits that I would love to give anyone who wanted them. All the yarn (wool) is here but not all the directions - the house is counted cross stitch. If anyone would like one of these just drop me an email and I will send it out to you. I used to love embroidery, but just don't have the eyes for it anymore.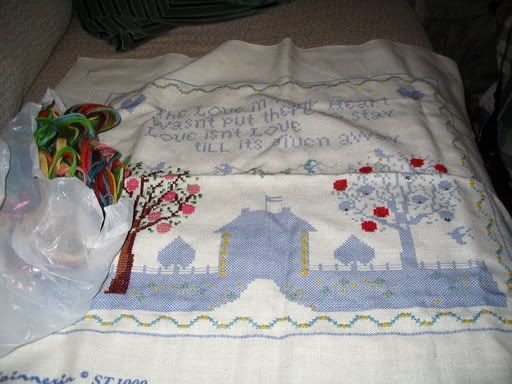 On the knitting/crochet front - I finally finished the scarves for the Crochetville Scarf swap - I didn't take any pictures so nothing to show for it. I also finally sent out my spring SP packages - I feel terrible that they are so late - I really hope my SP's like what I sent.
I need to start a shawl to keep here at work - the ac vent is right above my head and it blows directly down on my neck - I feel like I am in a meat locker. I have the pretty silk/rayon I picked up on ebay - I think I am going to crochet a quick cover up to keep here.
Lunch is over and it's back to work for me! Later................