David and the boys went to MA with the boyscouts this weekend, yesterday I dropped them off at the school (they are taking a bus there) and had the rest of the day to myself. I came home made a large cup of Adagio tea and read my email and bloglines. At 12:00 I had an appointment with the eye doctor - I picked out these (I think) very cool new glasses (David with think they are dorky) went to my favorite Mexican place for lunch, drove to Smiley's to pick up a circular needle - they are now carrying woolease sport - bought 1 in blue mist to make another shawl and stopped for coffee at the Colombian bakery down the street - best coffee around! Spent the rest of the afternoon organizing stash. Last night I finally started on Mariah again: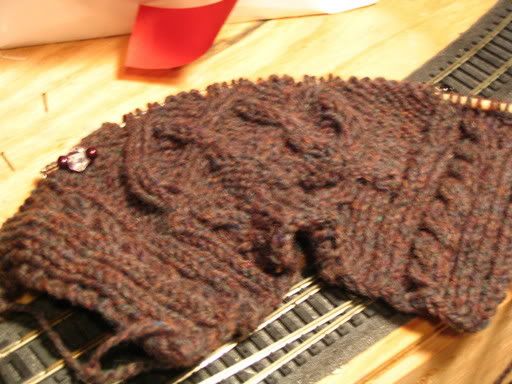 I am almost to the first increase row - I really love the color of this yarn!
I am still trying to visualize how this:
will end up looking like this: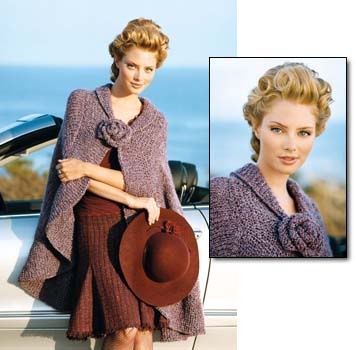 This is a really pretty bag I picked up cheap at a store that was closing: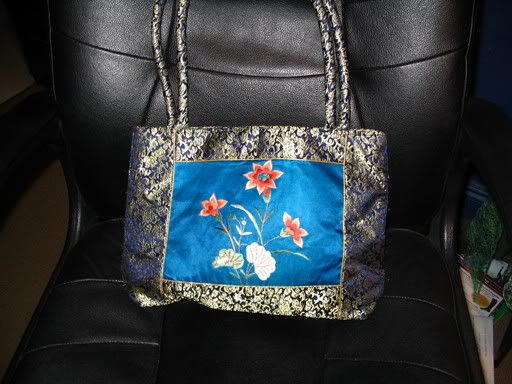 It is my current favorite knitting bag.
Finally the contest. This is the yarn I used for my FBS: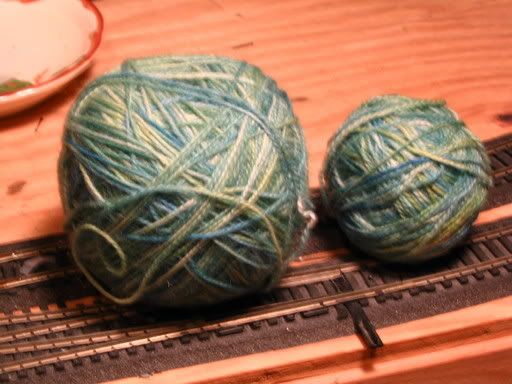 the smaller ball is what I had left from the ball I used - the larger is the 2nd skein that I did not need. I want to hold a contest to give this yarn away. The larger ball is a little over 400 yards. It is lovely lace wt yarn I picked up on ebay, 85% wool 15% nylon hand dyed. If you would like to win - leave me a comment with your favorite lace or cable pattern. I will put all the names in a hat and have one of the boys pick one next weekend. The lucky winner will get both balls of yarn.
Now I am off to get ready for brunch with my best friend - manicures, gossip and food - a perfect day!