Thanks to everyone for the kind words on my FBS. So far 14 people have left me patterns and entered my contest. I will have one of the boys pick a name out of a hat on Saturday and the lucky winner will get the yarn. If you crochet you can leave me a comment with your favorite shawl pattern.
I had a great weekend with Marilyn on Sunday, we had a lovely Italian meal and spent the afternoon talking and laughing! We stopped at Michaels because she needed pinking shears and wanted to pick up some flowers to make a door spray. I picked up some more beads to make a few more summer necklaces - I will post pics when they are available. I also made a lovely purple door spray while at her house. See:
Here is a pic of me in my FBS:
Unfortunately, when I left I felt a headache coming on and by the time I got home it was a full blown migraine. I was sick all night and have had residual headache since.
I added a few inches and started the increases on Mariah - I really like the way the cable looks - I just hate thinking about a winter sweater while longing for warmer weather and sunshine, so I cast on A Good Bias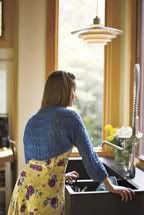 from IK in Reynold's Saucy in
this
color (the light green at the top left).
I really like this pattern and the Saucy was right on gauge and reasonably priced and the color looks like spring!
More later........