Ok I had some tea (Adagio opus pouchong with just a pinch of pumpkin spice - my current fave home brew) some soup and a shot of niquil then spent most of the afternoon watching Japanese soap operas and Helen of Troy on PBS( - The one thing I think I would miss more than anything else if I moved out of NYC would be all the foreign TV channels - I love subtitles!)now I am ready to play show and tell on my Rhinebeck score.
First up this is the bootie bag from the Yarn Tree: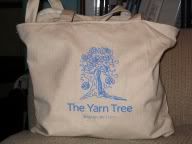 organic cotton and lots of stash hide, I mean holding capacity, as you can see as I pull out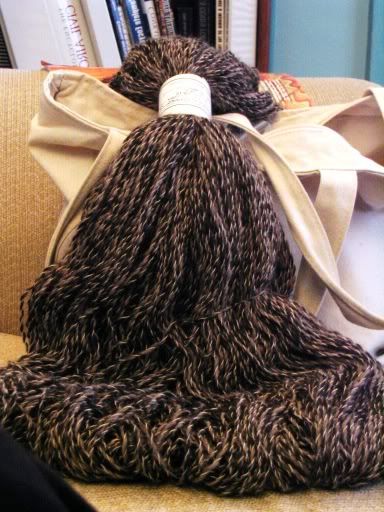 600 yards of Alpaca sport from a Twist of Alpaca in a black/grey/beige blend - I'm thinking lacy wrap maybe - next we have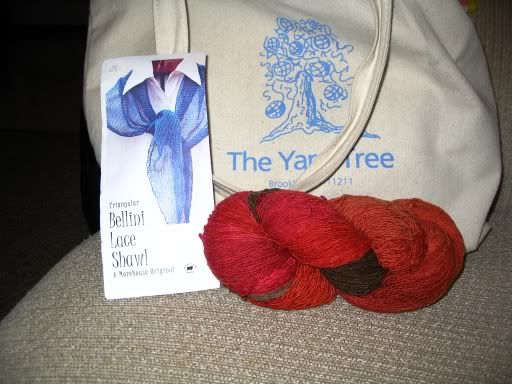 a Bellini Shawl kit from Morehouse Farm in a fiery red/orange and olive green mix - there was actually of few more things I wanted from them, but I was too tired to go back and get more - no biggy though - I can hit Union Square one Wednesday and pick up anything else I want. I also picked up these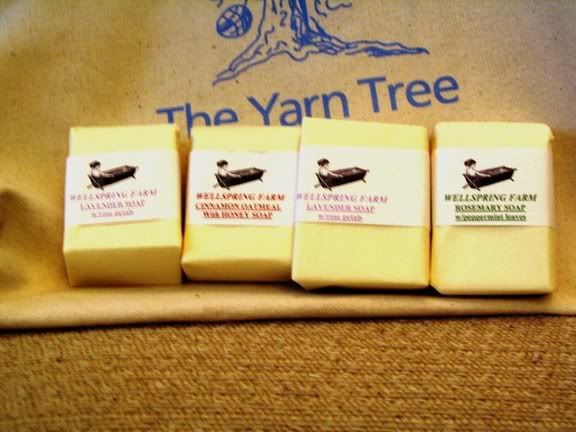 I won a contest on Norma's blog once and she sent me this soap - it was love at first whiff. I bought a few for me and to send to my SP's. I also picked up this Unikite pendant - I love unikite and was looking for a large piece to work with - it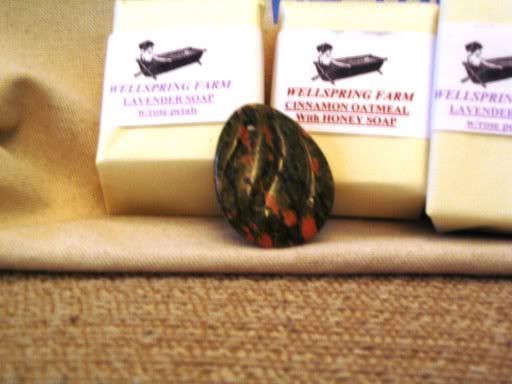 it will look good
with the Bellini Shawl too.
And finally - the best - my splurge -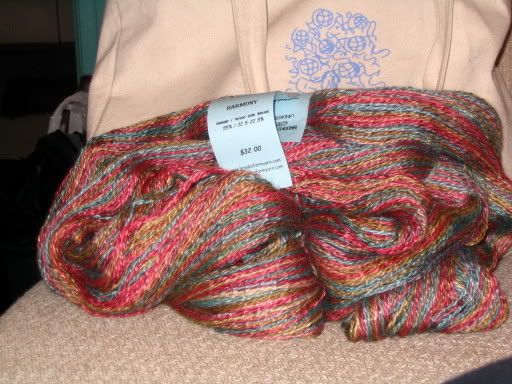 Harmony, gee I really love youand I want to love you foreverand dream of never, neverleaving harmony
1000 yards of Brooks Farms Harmony.
I have a specific idea in mind for this yarn - I actually went looking for a soft, beautiful, shiny yarn and I found true love in this mohair, wool and silk blend.
There, not too much, but what there is - is choice!