Yes I decided to cast on the FBS in the angora/alpaca handspun from MS&W- I bought this yarn specifically to make this shawl, so last night while watching NCIS and Supernatural I wound the skein and started knitting. I love this pattern - once I figured out what I was doing on the first one I made, the pattern became clear and the knitting easy. I like the way it looks - see: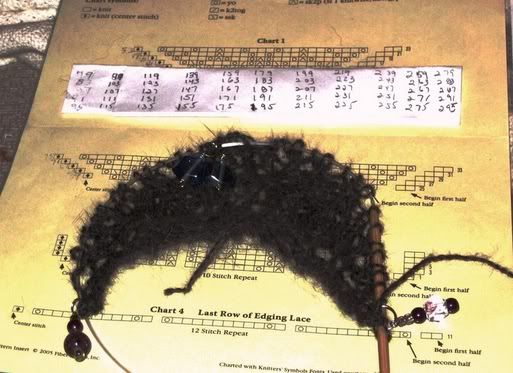 The yarn is soo light and bunny soft - it is a pleasure to handle. Since I only have 4 oz, I think I will end up with a scarf rather then a shawl but it will be a lovely accent over a blouse or jacket.
I'll admit I was a little lazy in choosing this pattern - all the other skeins of yarn I have are in over 1000 yard range and I didn't feel like winding that much yarn last night.
I am still waiting for my knitpicks order to show up - it only shipped on Friday so I know I have at least a week more to wait, but I am anxiously awaiting
this
in Redwood forest. I am in love with this sweater and want it
now