I am feeling a little hungover today - no not from drinking (that could be a good thing) from the migraine I had for the last 2 days - since going off the pill I get less headaches that are less intense, but last longer - not a happy tradeoff (I know TMI - sorry) So anyway last night - feeling nauseous and dizzy I laid on the sofa and watched TV (David was out) I watched the end of Queen of the Damned (eh), Veronica Mars (good) and Invasion (very good!) then took 2 Tylenol PM and went to bed, where I tossed and turned and had strange dreams of Evil Alien Dolphins sucking the lives out the locals and turning them into Pod People, except they were all listening to indy rock, so maybe they were iPOD people and dancing at the home coming party.
Needless to say I did not get much rest.
Anniversaries! Yes today is David and my 12th anniversary - this day always makes me a little sad because on our first date (Oct 27, 1993) we snuck up to the top of the WTC (his friend was as PA cop and let us in) and watched the city beneath us under a brilliant October moon. It was magical and it is now gone.
I also realized that Oct 8 (besides being John Lennon's birthday) was my 2nd Blogiversary! I can't believe I have been doing this for 2 years already - I should have soooo many more finished objects - I am a slacker.
I leave you with my current favorite picture of me and my honey in Utah: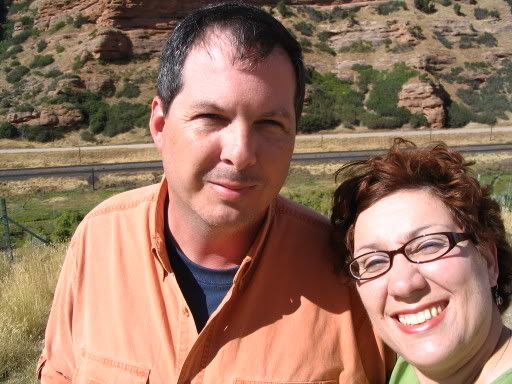 I love the orange-y-ness of this picture.