(there is a reason for this, but I am getting ahead of myself) This is my photo essay on the joys of sheep and wool - Ode to Rhinebeck.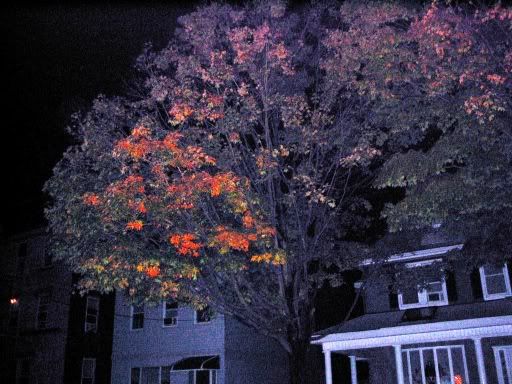 I noticed that since it HAD FINALLY STOPPED RAINING I could see some autumn color on the pretty tree across the street from my at. I snapped this as I headed out to The Yarn Tree to meet the bus at 5:45 Saturday morning
I actually find a parking spot on S 4th Street & Driggs so I had time to have coffee and a chocolate donut before getting on the bus. We made one stop in Manhattan to pick up the rest of our group at HABU Textiles. Then we were on our way.
Do you wanna know why certain roads are less traveled? ( See the title does have relevance to my tale) Because a big ass bus can't get go down it without getting stuck! That's why - See: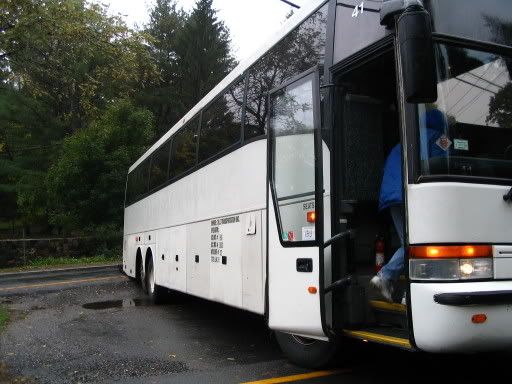 This is our BAB that has gouged a big whole in the road and is now stuck and can not move.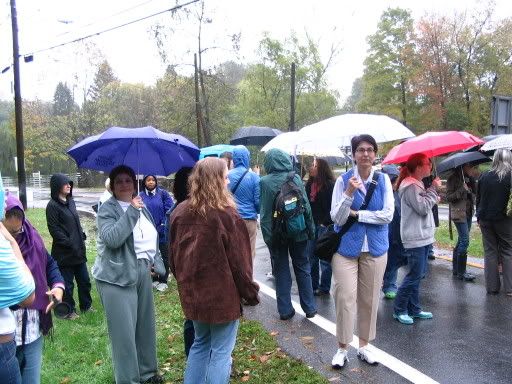 And these are my follow travelers standing in the most dangerous intersection in Bedford NY (The Police and Fireman both told us this) trying to make the bus lighter and easier to move - it didn't work.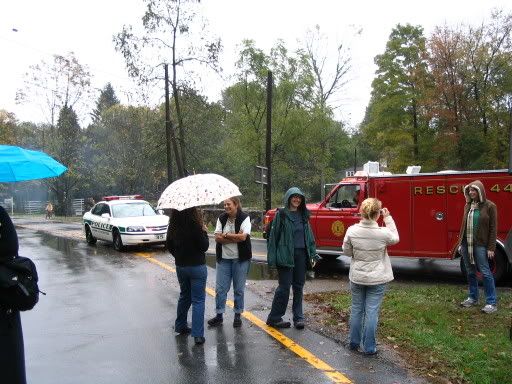 Here are the Police and the FD and more police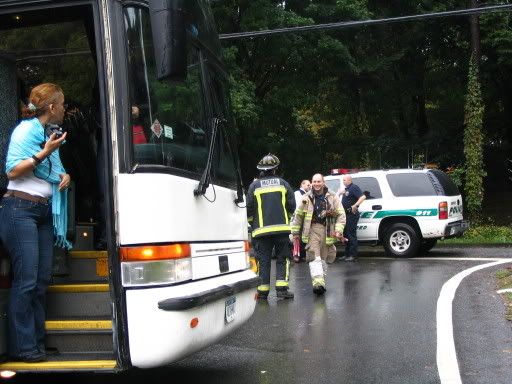 How many Men does it take to move a stuck bus? More than you see here 'cause we had to get more from the next town and they came with a BIGGER tow truck: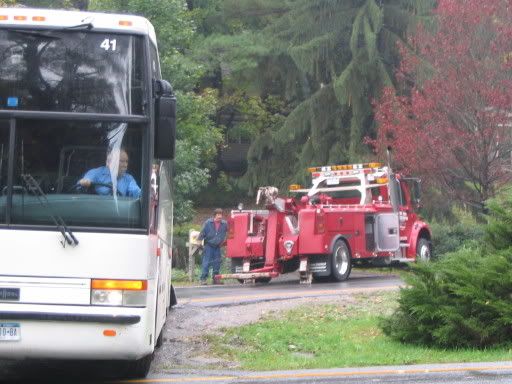 got down under the bus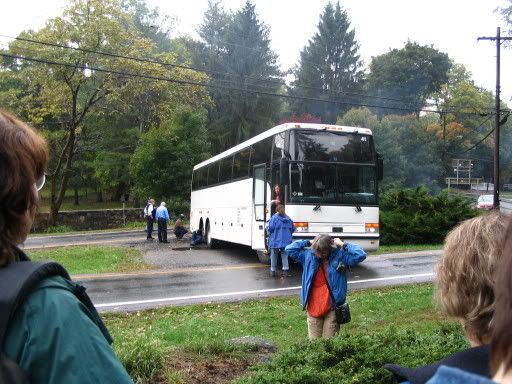 attached the chain and we were back on our way!
Sunshine in Rhinebeck: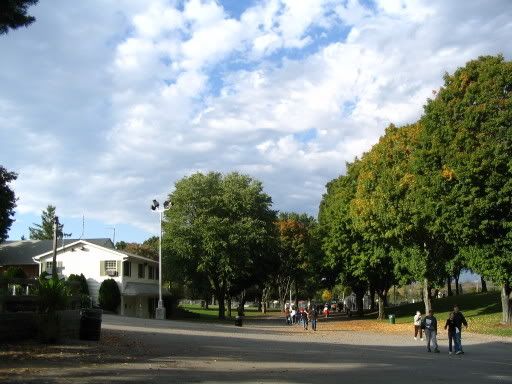 Angora bunnies: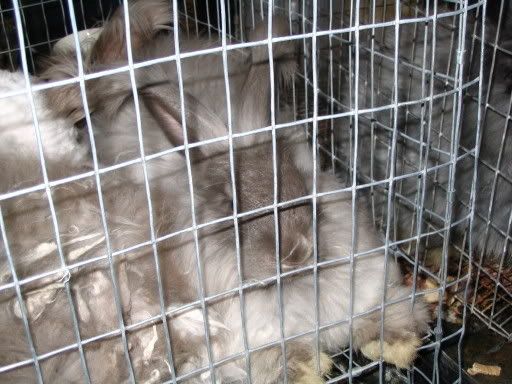 Much walking and shopping the ensued. I was a good girl - I stuck to my budget and did not go crazy. I looked at every vendor, stroked all the lovely yarns, petted angora bunnies, ogled all the decadent fibers and generally had an awesome time. Unfortunately my P!M!S!(thanks mamacate) had progressed to M!S! - back ache, aching legs & breasts, narcolepsy - the usual unpleasant side effects - so I was very tired and achy and ready to go back to the bus by 4:00pm. The bus was leaving at 5 so I spent the remander of time petting my new yarns and sharing oohs and ahhs with everyone else showing off thier finds as they came back to the bus.
As we were leaving these appeared in the sky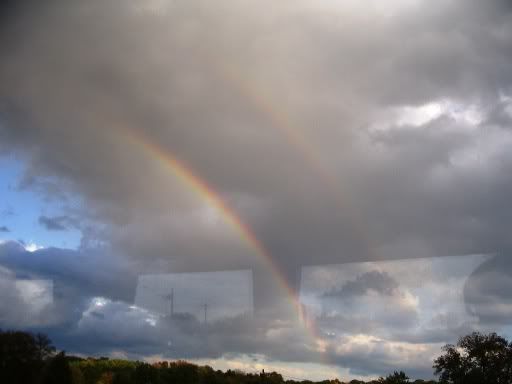 not 1 but 2 rainbows - how cool is that? On the ride home Linda - the owner of the Yarn Tree - had a raffle with prizes for everyone on the trip - I won a bag of handspun natural wool that will be great for hats or felting. Last picture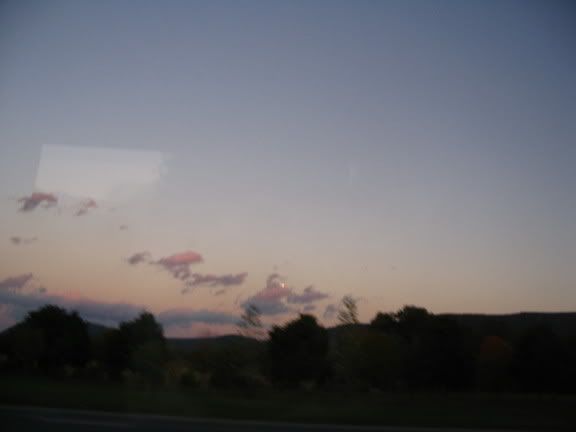 the night sky as we drove home - I tried to get a picture of the full moon but it is hidden behind a cloud. All in all it was a grand experience. I didn't meet up with any bloggers I knew, although I did see Norma and Nathania as I was heading out trying to find size 7 bamboo circulars, from what I overheard of their conversation - they were as hot tired and "crowded" out as I was, so I didn't stop and say hello - I just wanted to go sit and veg on the bus by then myself.
I will post pictures of the cool goodie bag from the Yarn Tree and the yarns I picked up from Brooks Farm, A Twist of Alpaca, Moorehouse Farms, my other purchases and the yarn I won later - its time to make more coffee and rest. David is home sick and I think he has passed his evil germs my way - I am cold and achy and stuffed up myself today.