So I stopped cursing and ordered another skein of yarn - I think I may even add a pattern repeat since the stole seems a little shorter than I would like - I will have to see.
My dilemma now is what to cast on next? I have the lovely
buttercream
yarn from
Red Bird
- or the fabulous lace wt from
Mystical creations
the
peach
not the creamy one. I also have this
gorgeous alpaca/angora
I picked up at MS&W you can't really tell the color in that picture - it is sort of a brown/black/charcoal heathery color. I am thinking of making another Flower Basket Shawl out of it since I only have 4 oz.
Now that the weather has gotten colder I am wearing more of my hand knits to work. One of my account managers said to me today that he wouldn't recognize me without one of my scarf/shawls on. Today I am wearing this one: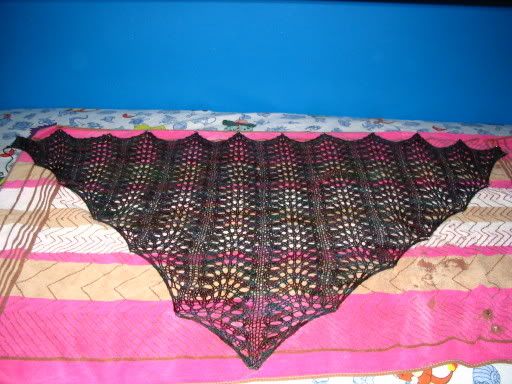 Can I tell you how much I love this yarn? Mountain Colors Weavers Wool - it is no soft and warm and the colors are amazing - I am definitely going to look for some more of this at Rhinebeck this weekend - that is if we don't get washed away getting there.
I also have the 3 skeins of Shepherds Socks I bought in Utah - that would make a lovely shawl too.
Decisions, decisions...........................