So here is a picture of the FBS in the handspun angora/alpaca yarn: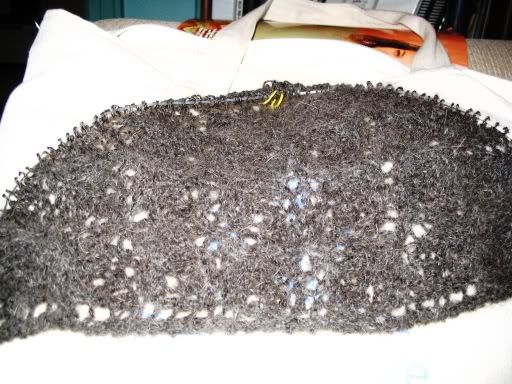 I have finished 2 more pattern repeats since I took this picture and still have about 1/2 of the first skein left so I think it will be a nice size when it is finished. I can't tell you how soft this yarn is - I think I spend more time stroking it than knitting it. I am loving it, even if if looks like a large brown hairball. I have never knit with angora before, when it is done, can I just block it the same way I do wool? Usually I soak the piece in Eucalan for a little while,
gently
squeeze out the excess water then pin it to within an inch of it's life.
I wound the alpaca I picked up at Rhinebeck last night - 600 yards is a lot of yarn - I really need a ball winder. I think I am going to make the
Spiral Nebula
out of it. The simple styling will work well with the yarn and it will make for an easy to knit piece that I can carry around with me.
I also caved and joined

cause I really want hand knit socks and the only way I am going to get some is if I sit down and actually finish a pair! I think I am going to make
these
. That way I can do lace and socks at the same time.
In other news - David has decided to retire! June 30 will be the last day he works - though with all the vacation day and chart days and what not his actual last day with the NYPD is in October. He hasn't decided what he will do after that. I can't picture him as anything but a cop - he looks like a cop, he walks like a cop and he talks like a cop - I have a hard time thinking of him with a real job!
Things haven't changed much with my mother. I have contacted the nursing home I want to place her in - I am just waiting to hear back from them. I am still taking her to day care every morning. It is starting to take a toll on me - I hate getting up in the mornings and going over there - everyday is just a little harder then the one before. I pray I can get this all settled before the holidays - I don't know what I will do when the bad weather hits - it was hard enough getting her out in the rain - she will never make it in snow and ice.
She will be staying at the Respite Center while I am in IL. Thanks to everyone for the feedback on yarn shops in Deerfield. I even have made dinner plans with another knitter in the area - I love meeting other knitters, it is fun to spend time with people who share your obsessions.
Well my lunch is over - back to work for me....