It has been raining steadily here since late last night - the parkway was flooded on my way to work this morning and coming home ( I was smart this time though - I avoided the parkway all together and took Hillside Ave all the way home - lots of lights but no floods) I have been cold and wet all day, so by the time I got home tonight I wanted something warm and comforting for dinner. After checking the pantry I came up with something yummy -
Curried Pumpkin Soup
1 can pumpkin
1 can coconut milk
1 can chicken broth
1 tsp - 1 tbls curry powder (depends on what kind you have and how strong you like the flavor.
Salt & pepper to taste
Mix everything in a sauce pan till hot - adjust seasonings to your taste.
This was really good - warm, spicy & creamy - it really hit the spot. Since I didn't have any naan or chutney, I ate mine with a slice of apple pie mixed with some tikka masala powder. Yum Yum.
Guess what? My knitpicks order arrived LOOK: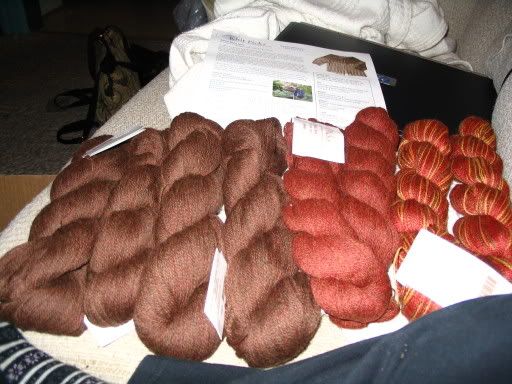 Aren't they pretty? Those are definitely my favorite colors - all I need is to add some greens and purples and it would be perfect.
I have been jealously looking at so many hand knit socks on peoples blogs - I know I would love hand knit socks - I just can't seem to get myself to knit any.
Well I am going to go play with my yarn and work on my FBS..................